Office 365 for your home PC
Are you an employee or student at Utrecht University? Then you may use Office 365 for free.
Use Microsoft Office 365 Pro Plus (Word, Excel, PowerPoint and Skpe)
With a licence that allows you to use it on 5 different devices
Use your UU e-mailadres and Solis-password to log onto the Microsoft website.
Then click 'Install Office' at the top right of the screen.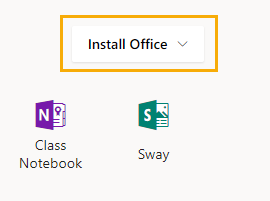 From here you can follow the instructions for installation.
If you are asked to enter a product key, click on 'sign in to an existing office 365 subscription'.
Please note: Never install Office 365 on a computer at the UU! In most cases, the computer has to be reinstalled after this.
Are you using a (personal) Mac?

Then Office 365 for Mac is only available for the three most recent versions of MacOS. Not supported version of MacOS do not receive the necessary (security) updates.

Solis-macs are always up to date and supported by ITS.

For more information see: the Microsoft support page.
Last modified: 23/08/2021