MyPhD for Candidates
MyPhD is the application to register en follow PhD tracks.
Registration
Registering in MyPhD:
PhD candidates are required to register in the university-wide PhD-candidate tracking system MyPhD before a PhD track can start. The system will send an email whenever action is expected to be taken. This email will come from MyPhD/Utrecht University. Your actions in MyPhD will automatically trigger emails from the system as well.
The PhD candidate needs to register in MyPhD as soon as possible within three months of the start of the doctoral research via the URL MyPhD.uu.nl/registratie
Before registration a PhD candidate needs to create an account.
Please note: MyPhD is protected with 2FA, you will need to set this up before creating an account. For more information go to: Two-factor authentication: FAQ.
If you have a Solis ID of Utrecht University or an UMC account of UMC Utrecht you choose 'Register using Solis/UMC account'. Your personal details from this account will be automatically added to your MyPhD registration form and you can complete your registration form by logging in.
NB: everyone connected to a promotion from the UMC has to agree to sharing (parts of) their data with MyPhD. You can do this in the staff portal and if you are an UMC employee you can do this yourself via: https://selfservice.ds.umcutrecht.nl/irj/portal/. Are you connected to the UMD via a hospitality agreement? Then the division secretary can do this for you. Once permission has been given in the portal, your data will be available in MyPhD in 1-3 days.
If you do not have a Solis ID or UMC account you choose 'Register without Solis/UMC account' . You will be asked to fill in personal details to create an account. After confirmation of your new account you can complete the registration form by logging in.
It is possible to complete the registration at a later time. You can log in via MyPhD.uu.nl/registratie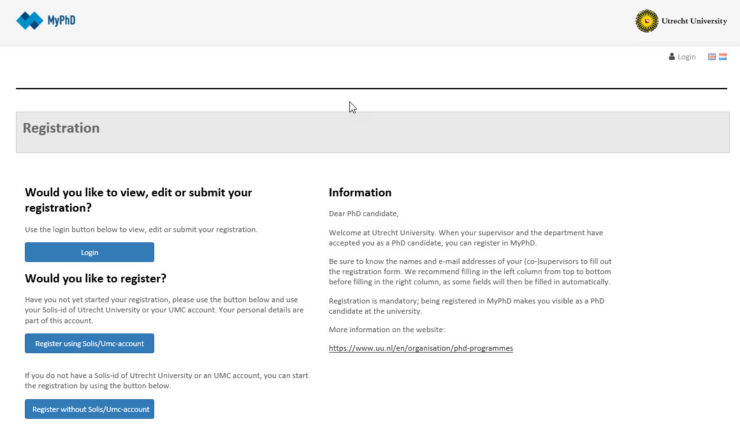 Logging in after approved registration
As soon as your registration has been approved by the College for the Conferral of Doctoral Degrees you will be able to log in via MyPhD.uu.nl. If your account starts with an Enumber you will have to choose Login without SOLIS-ID or UMC-account.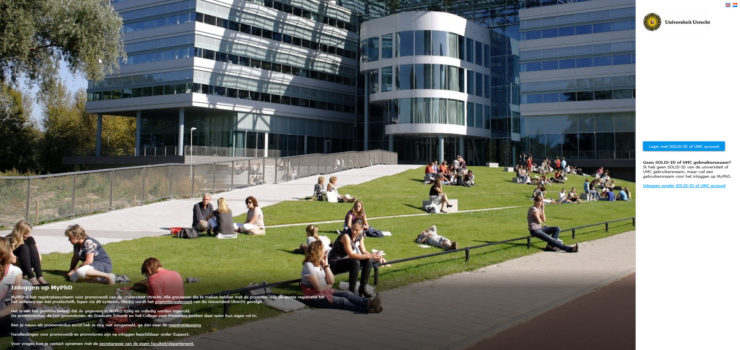 After logging in in MyPhD the Guide for Phd candidates is available at support.
Unable to log in
Please contact MyPhD functional administration via self-service (if you have an SOLISID) or send an email to IT Service Desk stating the username that is being used to login.
Last modified: 24/06/2021